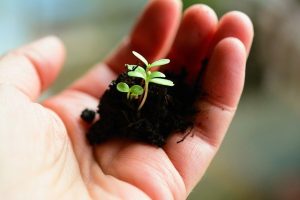 My thoughts for this week are taken once more from nature and the way Jesus taught from the world of nature, so that people could understand the message. Jesus said that the mustard seed, although very small, would grow into a tree in the way that His kingdom would. (Matthew 13 v.30)
---
A few weeks ago, I spoke about the corm as a parable and this week the Gladioli makes another parable. It was August when the corms were mentioned. They stood tall like soldiers in smart green clothes but no flowers. The summer days were dry and hot, so I did my duty of watering without any expectation of blooms. One morning, a white flower appeared followed another morning there was a pale-yellow flower followed by a fierce storm. The soldiers were pulled backwards and forwards and even the stick to hold them was broken. Perhaps I should have sung 'Onward Christian Soldiers' but in Lockdown that was not allowed! The brilliant plant survived the brilliant sunshine and the constant watering and produced more white blossoms as well as pink and red and orange right until the first day of November.
---
You might be wondering why I have called this Corm Parable Number Two. In the book of Galatians 6 v.9, Paul says, "Let us not become weary in doing good for at the proper time we will reap a harvest."
---
I imagine that most of us will have watched the musical 'The Sound of Music' which often comes on our screens at Christmas and you might remember that after a difficult time followed by everything looking better for Maria she sings, "I must have done something good" as she dances over the mountain with her children.
---
Taking care of nature has become the project of even the youngest child through teaching at school and home and as we come to the time of prayer my thoughts go to books. The reason for that is that I am surrounded with books of all kinds and because I have to let some go to make space, I glance at each one. Yesterday I looked at two very different books with Love as the subject. Firstly, was a book written in 1873 by Henry Drummond called THE GREATEST THING IN THE WORLD. His book about love being the greatest thing came from his study of Natural Science.
---
The other book I picked up was by Nanette Newman called 'God Bless Love' and was children's thoughts about love. Here are a few: 'If only the world were made of love." (Louise aged 7) "I don't think there should be rich churches when there are poor people." (Fiona aged 11) "I have been praying to God for over a year now to stop the fighting and wars but he hasn't done anything about it – yet." (Zarab aged 7)
PRAYERS
Robin, aged 6, said, "I say my prayers with my eyes open so that I can hear what I am saying." Ever listening Father, these few thoughts of children about love make us think about our own prayers. Children say what they see, quite often after much deeper thought than we give to our prayers, There is a saying about arrow prayers, which are the ones that we say very quickly and may also be ones that we hope will be answered quickly . May this week be a time when we stop and think.
---
We pray for the state of the world. As I sit here, I am thinking about what I have heard on the news today. We are told to expect a further lockdown. Father we ask, is it the right way to beat the virus, is it your will for the whole world that you have in your hands? Have those who make the decisions spoken to you with their eyes open Lord?
---
Father hear our prayers as we simply ask that your will be done. Lord Jesus, lover of children and of all people, James aged 5 said, "You must take care of love – if you don't it goes bad." And from Henry Drummond, "Love is the greatest thing and where Love is, God is." Heavenly Spirit, lead us this week in the way of loving all people, let love of all people be our project each day. AMEN