"When the day of Pentecost came, they were all together in one place…All of them were filled with the Holy Spirit." Acts 2 verses 1 & 4
Dear Friends,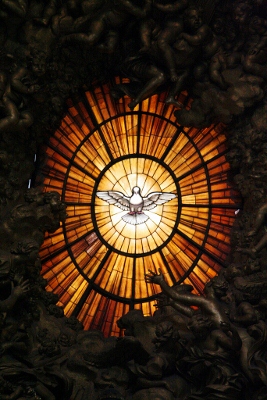 Easter Day may be past so far as the celebrations of Jesus being alive are over and the Christian calendar has taken us on to the Sunday known as Low, but I hope and pray that we have not allowed the mundane things in our lives to take away the uplifting message of Easter. The period we are in, in May and June, includes the Ascension of Jesus to His rightful place with His Father in heaven followed by one of the most exciting days for Christians.
On Sunday June 12th, we celebrate the day of Pentecost when the Holy Spirit descended on the waiting disciples and filled them with such great power that they lost all their fear and were able to present boldly the Good News of Jesus to thousands of people who were then converted into being believers in the Risen Christ.
Every Christian has been given the same power to be bold in their faith. As I write this I have just read that the man who was threatened with the sack for having a palm cross on the dashboard of his car will no longer lose his job and the cross can stay where it can be seen. He stood his ground for Christ and Christians backed him up to the point where his employers felt bound to change their minds. The Christians of our country need to stand up and be counted in this way for we have been given the power of the Holy Spirit for such a purpose.
"Be Bold, for the Lord our God is with us!"
In the Lord's love and service,
Marion