Last week on Advent Sunday, Matthew's Gospel led me to think with the disciples about the future. As the disciples left the Temple with Jesus, they looked up at the buildings and commented on the magnificence of the Temple that had been rebuilt by Herod the Great to keep the Jewish people satisfied. This included the religious Pharisees to whom the building was more important than Himself. He told the disciples that at a certain time it would all be destroyed. After this Jesus told them what they would see happen in the future, for instance wars earthquakes etc. They asked when the end would come, and Jesus replied that only the Father knew but the Gospel must be preached in all nations. (Matthew 24)
---
There are many ways of spreading the Gospel: Long Compton's living Advent Tree, lights & candles and Christmas cards with the Nativity or parts of the story such as the shepherds or the Magi which are not always available. LISA has prepared posters that you might like to put in your window or on a notice board AND I have made an exhibition of ten Nativities which I would have put in Long Itchington Chapel but it wasn't to be again. So, back to ADVENT Sunday No. 2.
---
WE LIGHT THE SECOND CANDLE TO CELEBRATE HOW GOD, THROUGH THE BIRTH OF HIS SON JESUS, BROUGHT LIGHT OUT OF DARKNESS SO THAT WE CAN TRUST HIM TO BE WITH US AT ALL TIMES. IN THE WORDS OF ISAIAH, "THOUGH DARKNESS WILL ENVELOP THE EARTH, SEEMINGLY IMPENETRABLE, HIS LIGHT WILL SHINE UPON YOU, HIS PRESENCE GLOWING BRIGHTLY IN YOUR MIDST." (Isaiah 60 v2)
---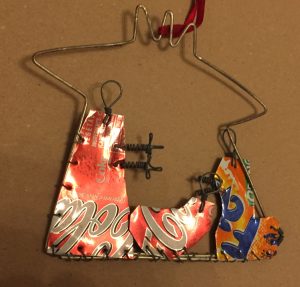 Many years ago, my son Darren and his wife Kirstie went on a safari in Kenya and bought me a present, which was the Nativity. It was made out of an old Coca Cola can. The shape is of the place where Jesus was born because there was no room for them in the inn and if you look closely you might make out shapes of people and animals. I have treasured the gift and what it meant for a long time.
PRAYERS
Ever loving Father, the words you gave to Isaiah were that the people who walked in darkness have seen a great light. Every year as we await the coming again of our Lord Jesus, we hope for the end of walking in darkness.
Every year we celebrate the coming of the Messiah, your Son, our Lord Jesus Christ. Father God, you do not accept evil and we pray to be delivered from evil. We pray to come out of the darkness and yet it is still in the world.
Today, again, we cry for help. Jesus came bringing light into a darkened world. Today, we are waiting to celebrate the gift of our Lord.
---
Father, we ask forgiveness that we have spoken about repentance but have failed again and again to follow in the way that your wonderful Son showed us. All around us we see injustice, a lack of love for one another, while we are fed with plenty, we know that others do not receive the daily bread because we have taken what is not ours to have. Lord Jesus Christ we pray for change in ourselves as we repent in Your Name. Amen